From the Largest to the Smallest
In a given day a physician will help patients who are experiencing the hardest times in their lives. Providing comfort to these patients needs to be at the forefront of their minds, not worrying about entering residency data.
Simplify your processes and seamlessly integrate your needs into a single solution. Using the Residency Management Suite, your institution can handle scheduling, case logging, evaluations, monitor conference attendance, and much more.
"...NI has helped us to improve our process workflow and has increased our efficiency. We look forward to continuing the collaborative tone working with the staff of NI as we grow/prepare the challenges of the ACGME Next Accreditation System (NAS)."
Ensure Institutional Quality
The New Innovations software assists you to intuitively monitor institutional performance including expiring licenses, certifications, CLER Visits, required personnel data, and institutional agreements.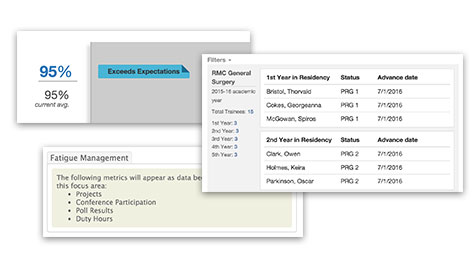 Efficiently identify problem areas within your institution to ensure compliance. APE, NAS, and CLER Visit features help you collect accreditation data through resident polling, site specific policy records, and key personnel reports.
Learn MORE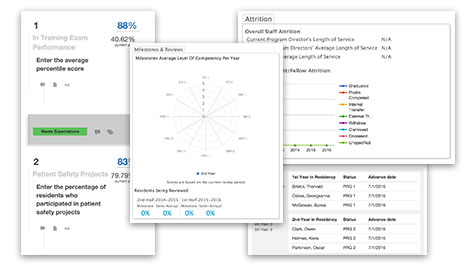 Review program performance to see where programs struggle and where they excel. You can also view program trends, focus in on key areas, and visualize which programs had a critical response to a question.
Learn MORE
Implement Value-Based Reimbursement Strategies
Take charge of your institutional reimbursement issues with our Finance applications, which efficiently manage over $6.2 billion in Medicare/CMS reimbursement every year.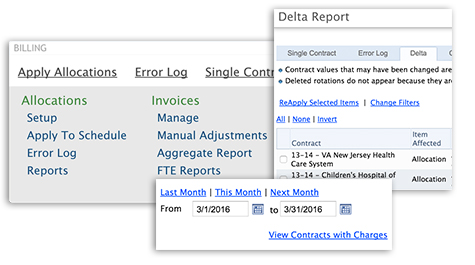 Automate billing for trainee costs with tools designed to support finance personnel. Enable your institution to configure custom "Contracts" that define the contractual obligations between itself and its affiliates.
Learn MORE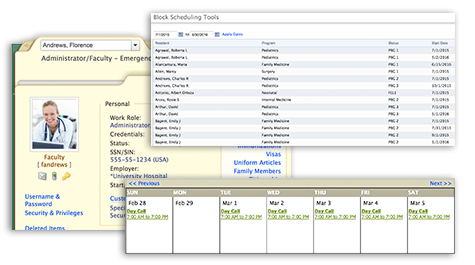 Allow GME and finance personnel to collect and export IRIS information for Medicare Cost Reports. Calculate weighted GME and IME figures, import legacy IRIS information, and export database functionality.
Learn MORE
Drive Superior Clinical Outcomes
Oversee the performance of your institution with features such as easily managed data collection and robust reporting
to help you consistently drive improved results.
Provide Administrative Oversight and Guidance
Streamline your resident data tracking process with conference attendance, materials distribution,
patient history, and much more.
Stay Informed of Resident Schedules
Whether maintaining rotation schedules, call schedules, staffing a clinic, or coordinating ER shifts, our suite provides efficient entry and distribution of all schedule information.
Manage Personnel
Ensure efficient organization of medical staff affairs, personnel information and files, contract administration, onboarding, and physician credentialing retention.